Thanks to Richard Zhang, for generously sharing with us his time and knowledge and for working together to arrange Metal Tiger Tea's first shipment from Vicony Teas.
Vicony tea gardens are scattered in the mountainous area of southern Anhui province and Jiangxi province China, far from urban areas, free of industrial contamination and known for the scenery of Huangshan Mountain.
Vicony Teas is renowned for keemun black tea. Every year, its premium keemun tea such as Keemun Hao Ya A and Keemun Mao Feng is sought after by tea connoisseurs.
Outstanding and rare, these keemun teas are the highest standard available, with sweet biscuity fragrance, exquisitely mild but complex aromas and a hint of smokiness. It is said you can compare Keemun Hao Ya A, to a fine burgundy wine, because of it's superb bouquet and because premium tea ages well and improves over time.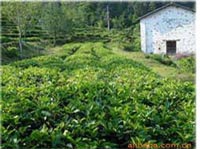 Metal Tiger discovered Vicony Teas on our search for companies that offer great quality tea, grown with a commitment to organics and demonstrating social responsibility to their workers and community.
The Lei family who has grown tea for more than four generations, say that they realised the significance of sustainability and abandoned the use of chemicals, fertilisers, pesticides and genetically modified organisms, because they did not wish to make profit at the cost of the environment and human health.
Vicony Teas was among the first to take an active part in organic tea farming in China and has two organic certificates (EU and US).
http://www.viconyteas.com/